Conley's Horse Photos
2021 US Draft Horse and Mule
Plowing Contest
The 2021 US Horse and Mule Plowing Contest was held on Saturday October 23rd this year. The event had been cancelled in 2020 due to the virus. For the 5th time, the contest was held at the farm of Mike and Joyce Downs in Olympia, Kentucky. Joyce indicated that she had received a lot of calls from spectators who wanted information and there were lots of spectators on hand to view the plowing. The contestants didn't have to deal with any weather related problems this year as the conditions were almost perfect with sunshine and temperatures in the upper 60's on competition day. Attendance was down this year as far as repeat contestants go. Unfortunately, we had 5 or 6 contestants who had to cancel their attendance at the last moment due to illness and, in one case, a death in the family. However, there were a few new competitors who helped to fill the void. Overall, there were still enough participants to put on a good show. There were 7 classes available although a couple of classes didn't have any entries and some contestants entered more than one class.

As has been the tradition at this event, 3 different independent judges were used to try ensure fair results. Judges had 10 categories to judge and gave each contestant up to 10 points in each category. A total of up to 300 points were available to each contestant in a class (100 per judge) with the overall winner being the contestant with the highest point total. The 2019 High Point winner, Mike Atkins from Ohio, did not compete and, instead, was one of the 3 judges. Mike has been the high points winner several times over the years and is more than qualified to be a judge. This year's High Point winner was Scott Link from Ohio. This was quite an accomplishment for Scott, as he had originally planned to plow in the 3 Horse Sulky Plow class, but discovered he had one lame horse on Saturday morning. He had to quickly make some rather radical changes to the setup of his plow in order to plow in the Two Horse Sulky Plow class instead. He finished in first place in that class against 4 other competitiors and had the highest point total of all the contestants in any class with 264 points. In second place was Paul Vanderloon from Michigan with 257 points. Special congratulations are due for 15 year old Ryan Shoemaker of Winchester Ohio for winning the blue ribbon in two different classes in his first attempt at competitive plowing. Ryan has long been a factor in the goat world, but he now has his own team of Suffolk horses and from the looks of his results, is already a factor in the draft horse world. As the ribbons and trophies were handed out, Doris Mosher from Ohio awarded special halters and lead ropes to both the class winners and the runners up to show her appreciation for the camaraderie and the sportsmanship that this event epitomizes. The group expressed a heartfelt thank you to Mike and Joyce Downs for again hosting this event. It takes a lot of work to put something like this on and, as usual, they did a great job. I think that everyone who attended really enjoyed their time in the Bluegrass State!!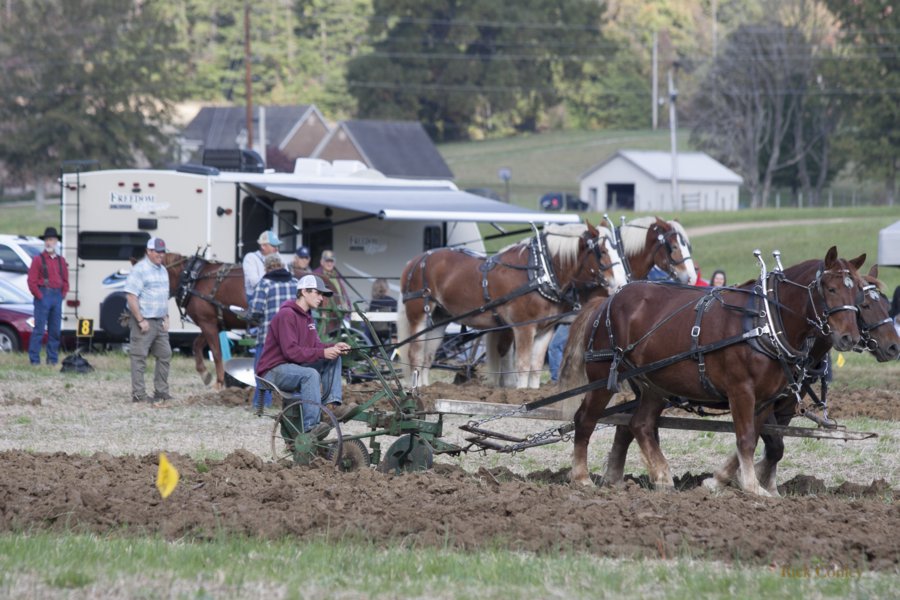 Click the links below to see photos from this event!
A DVD with a slideshow of all of the photos displayed for this event is available for $35 including shipping.
Individual photos are also available for purchase! Contact us or click here for more information about ordering.