Conley's Horse Photos
2023 Bath County Fair Farm Pull

The Eastern Kentucky Draft Horse and Mule Association held it's annual horse pull on Saturday, July 15, 2023 at the Owingsville Lions Club Park in conjuction with the Bath County Fair. There were 5 teams that showed up to compete. Two were from Ohio, one came all the way from Tennessee and two were local teams. The weatherman didn't do us any favors as there had been showers off and on all day. It seemed that it was going to stop about the 5PM starting time, but that was not the case. There was a lull about that time, but it started a light rain again as soon as the pull started. Although the rain lasted about an hour, it didn't stop the action. Finally, about 6PM, the sun popped through and we finished under beautiful skies.

The rules for the pull require the sled to be pulled 20 feet in order to be called a "Full Pull." Each team is given 3 attempts to complete a full pull. The team must have a full pull in order to move on to the next weight class. Anything less than a full pull results in the team being eliminated. On the 3rd attempt, the teamster is permitted to designate where he wants the sled positioned for his final attempt. This came into play today as no team competed a full pull at 8,000 pounds except on their 3rd attempt. Since there were no more blocks remaining and the sled was full anyway, the teamsters agreed to a sudden death pull off with the team that pulled the sled the furthest being declared the winner. Check out the photos that I took of this event. Click below!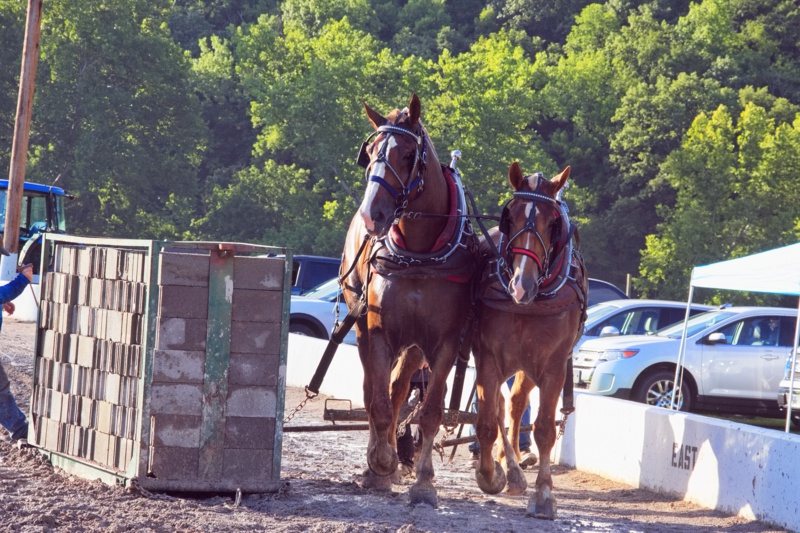 Click HERE to see photos from this event!
Individual photos are available for purchase! You can click here for information about ordering.
A DVD with a slideshow of all of the photos displayed on the website for this event is available for $25 which includes shipping.